News
Conferences
20th International ISLA Conference in Frankfurt/Main (Germany):
November 21 & 22, 2020
Due to the current situation we will offer virtual & in-person attendance to our conference. More information will follow shortly.

ISLA- information material

5 DVDs of the lectures from the annual ISLA Conference 2019 in Germany
Price: 90,-EUR plus shipping and VAT
How to order: Send an email to weber-research@isla-laser.org or call + 49 (0)5273 389 4506
Low-Level-Lasertherapy Handbook (2nd edition):
10 chapters; amongst others on Intravenous Lasertherapy, Interstital and Intra-Articular Lasertherapy, Photodynamic (Tumor-) Therapy, Transcranial Lasertherapy and Practical Applications of LLLT.
737 pages, 82 treatment protocols, more than 300 figures, 10 guest articles.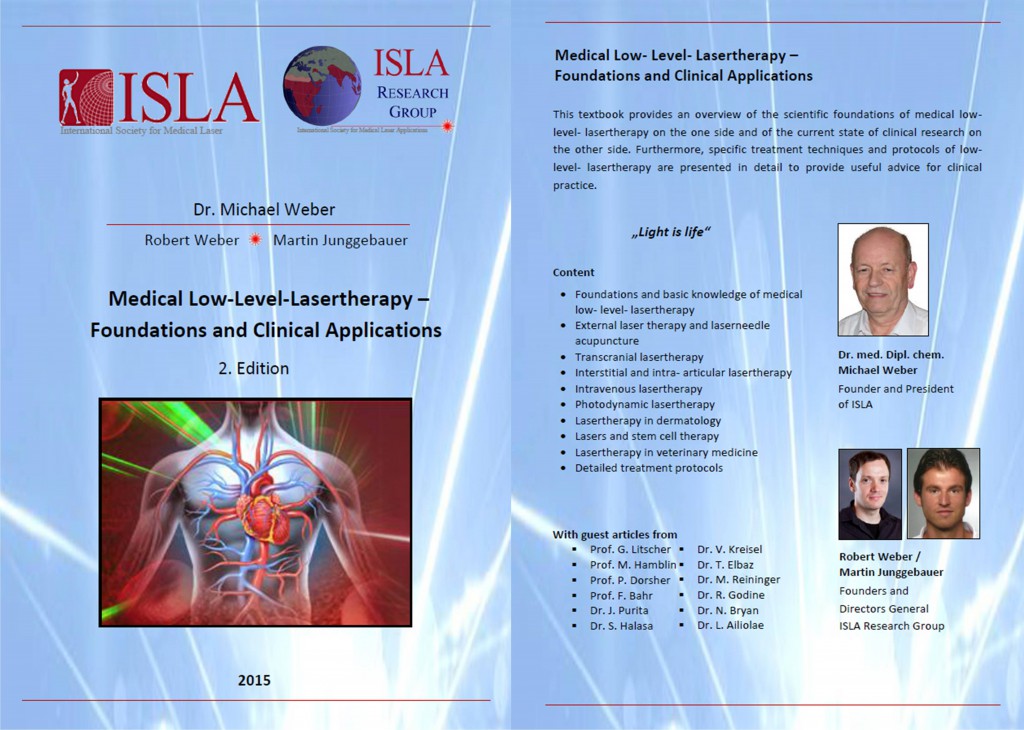 Current research:
Location
Center for Medical Laser Applications
at the medical clinic Neu-Maria-Hilf, Göttingen
Presidents:
Dr. med. Dipl. Chem. Michael Weber
Prof. Dr. Gerhard Litscher
Vice Presidents:
Board:
Prof. Peter Dorsher, MD
Joan Walter, JD
Steve Liu, LAc
Prof. Margaret Naeser, PhD, LAc
Seid Cosovic, MD
Main areas:
Treatment of patients
clinical studies
Education and hospitations
Aims
Anouncement and spreading of new knowledge about the new lasertherapy
consolidation of the extensive material about up to now known data of the lasertherapy
Exact scientifical research about the basics and clinical application (double blind studies)
definition of the importance of medical lasertherapy
Cooperation with other big laser associations to integrate into the education
Spreading of the new methods within the population and development of new therapy procedures for the clinical work