Dermatology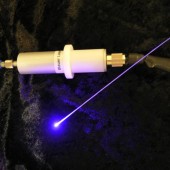 In dermatology, lasertherapy is used for the treatment of eczema, neurodermatitis, psoriasis, chronic wounds, acne, herpes and gingivitis.
The blue laser is very important here because of the anti-bacterial and anti-inflammatory effects.
The combination of the different laser wavelengths (red, infrared, green and blue lasers) with
special beauty cremes is leading to an optimal renewing of the skin and connecting tissue.
These highly effective crèmes are mixtures of hyaluronic acid incorporated in liposomes. In
this preparation the hyaluronic acid is able to penetrate optimally in the different layers of the
skin.
The lasers accumulate the content of the hyaluronic acid and store it in the skin and connecting tissue.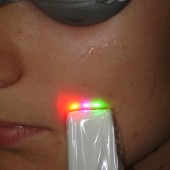 This therapy is used of vitalisation and regeneration of skin and wrinkles, for cell metabolism regeneration and for purification of the connecting tissue with increase of the energy transport processes.
The effects
The effects of the different lasers in dermatology and cosmetics are:
blue acts bactericidal, improves the microcirculation (release of NO) and stimulates the respiratory chain on the level of the NADH-dehydrogenasis
green activates membrane potential of cells (K-Na-AtPasis) and mitochondria
red improves healing, binding to cytochrom-c-oxydase in the respiratory chain, build up of cells, immunological effect
infrared cross-links the hyaluronic acid, binding to cytochrom-c-oxydase